Dr. Maria Briceno Martin
Dr. Maria Briceno Martin grew up in the town of Miami Lakes and attended both the local middle school and high school. After graduating Hialeah Miami Lakes High School in 1999, she obtained a Bachelor's Degree in Biological Sciences at Florida International University, graduating at the top of her class in 2003.
During her college years, she began to work with her mentors in Miami Lakes as an optometric technician and developed a passion for eye care.  She then attended the prestigious New England College of Optometry in Boston, Massachusetts and graduated with Honors with a Doctors of Optometry in 2007.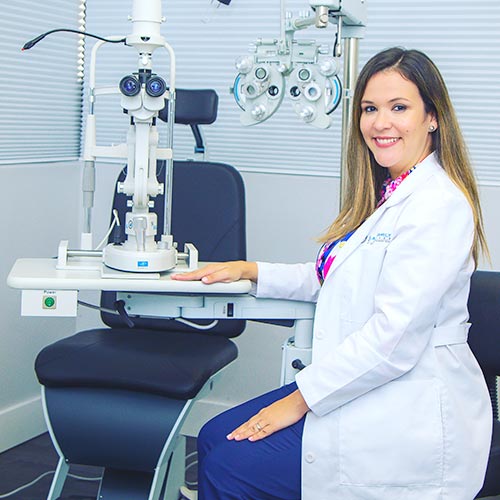 Since her return to her hometown, Dr. Maria Briceno Martin has been providing care to patients in the town of Miami Lakes for the past 10 years in an ophthalmology practice where she received extensive knowledge and experience in primary eye care and ocular disease. It has always been her passion and vision to give back to her community and open up her own practice in the town she grew up in.  After close to 11 years of practice, she decided to make this dream a reality and Lakes Family Eye Care was developed.
Dr. Maria Briceno Martin is a Board Certified Optometric Physician and is an active member of the American Optometric Association, Florida Optometric Association, and Miami Dade Optometric Association.
She is happily married to her High School sweetheart Greg Martin and has two beautiful daughters Mila and Maya which are her pride and joy. In her spare time, she loves to travel, go to concerts and spend time with family and friends.