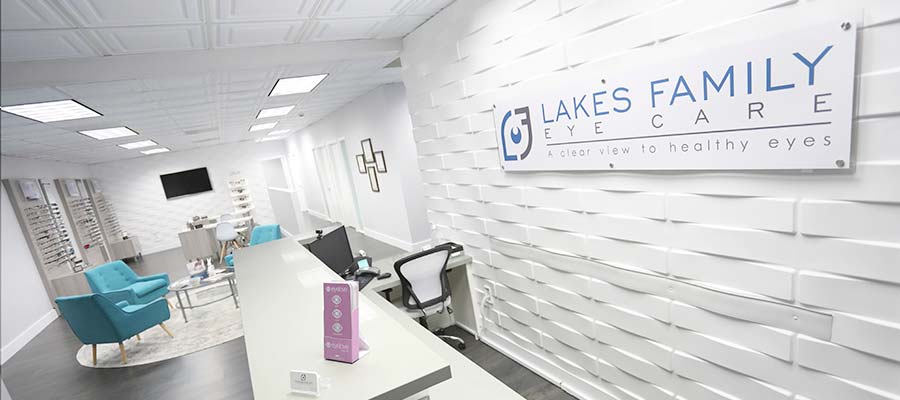 Miami Lakes Optometrist – We Provide Quality Eye Care.
At Lakes Family Eye Care we are committed to providing you and your family with an exceptional eye care experience.  Dr. Maria Briceno Martin has been performing comprehensive eye exams, treating and managing ocular diseases and handling a variety of eye emergencies for patients in Miami Lakes and surrounding communities for over 10 years.  Our optical carries a wide variety of brands to meet the needs of our patients from budget-friendly frames to high-end designer brands.  We offer outstanding quality from industry leading manufacturers in prescription lenses from single vision, bifocals, and progressive lenses.  Also, with the convenience of our in-house lab, you will be able to enjoy your new glasses earlier. Our in-house lab allows us to solve any problems that may arise with your glasses in a shorter amount of time.
Our contact lens fittings range from soft daily lenses, toric, multifocal and rigid lenses for specialty fit cases.  Dr. Briceno Martin will recommend the best option for each individual patient to allow for good fit, vision, and comfort.  At Lakes Family Eye Care we also offer CRT (Corneal Refractive Therapy) for overnight vision correction.  Imagine going to sleep every night with your contacts only to wake during the day with clear vision without the hassle of wearing your contacts for the rest of the day. It is one of the many options we can use to help correct your vision and increase the longevity of your eye health and slow the progression of myopia.
At Lakes Family Eye Care our technologically advanced equipment allows us to perform thorough eye exams to help detect many conditions that patients may not be aware of.  Eye health is our priority and we will make sure our patients feel confident and satisfied with our care.  Dr. Briceno Martin continues to promote eye exams as part of your yearly physicals.  Whether you have an eye emergency, have difficulty with your vision or would like a routine eye exam, Lakes Family Eye Care will be able to meet all your eye care needs.
Our Services Include: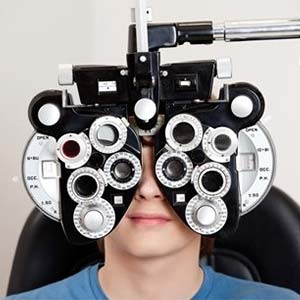 Comprehensive Eye Examinations
During your exam, we will assess for any vision correction needs, eye health problems and eye disease with a thorough dilated examination of the front and a back surface of the eye.  We will use the latest equipment and techniques to keep track of your eye health year after year.
Contact Lens Fittings
Whether you need daily single vision lenses or need specialty lenses such as torics, multifocal, or rigid glass permanent lenses, our Atlas Corneal Topographer will be able to accurately fit your eyes with the best contact lens for you. We also offer complimentary evaluations for CRT (corneal refractive therapy) a non-surgical vision correction.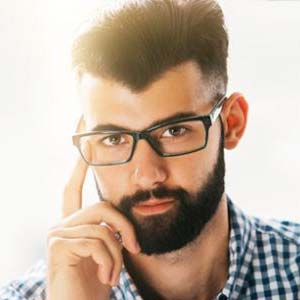 Glasses For Kids, Teens, Adults And Elderly
Our unique and boutique like optical offers frames for patients of all ages.  Whether you are looking for high-end brands or budget-friendly frames our optical offers options for any price range.  We offer prescription lenses for all your specific needs such as work, driving, sports, or computer use.  Our in-house lab allows for quicker turnaround times in receiving your new glasses.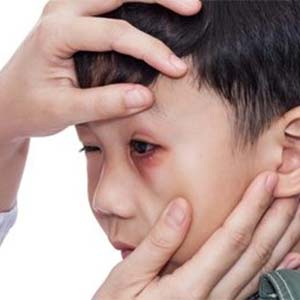 Eye Emergencies
Whether you are concerned about a simple burning sensation, pink eye, scratched cornea, foreign body, flashes or floaters, knowing what to do and acting quickly can save valuable time and perhaps prevent loss of vision. At Lakes Family Eye Care, we can treat eye emergencies such as red eyes, styes, uveitis, conjunctivitis, flashes, floaters, corneal abrasions, corneal ulcers, foreign bodies, double vision and other eye injuries.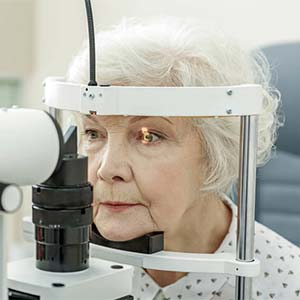 Cataract Evaluation / Comanagement
Concerned that you may have cataracts? At Lakes Family Eye Care we will evaluate whether you have cataracts to determine what treatment is needed and/or if surgery is indicated.  We will examine you and work closely with an ophthalmologist and be available before, during and after the procedure.
LASEK/LASIK Evaluation / Comanagement
Interested in vision correction surgery?  Ask us today and we will evaluate you to see if you are a candidate for LASEK/LASIK surgery.  At Lakes Family Eye Care we have the diagnostic tools needed to assist you and the surgeon along the way and determine what is the best option.  We will work with the ophthalmologist and be available before, during and after the procedure.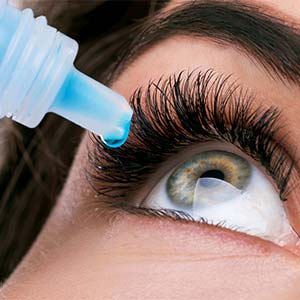 Dry Eye Treatment
Are you tired of dry, gritty, watery and irritated eyes?  At Lakes Family Eye Care we specialize in the treatment and management of dry eye.  Ask us today about the latest treatment options including over the counter tears, dietary supplements, prescription tears, and punctual plugs.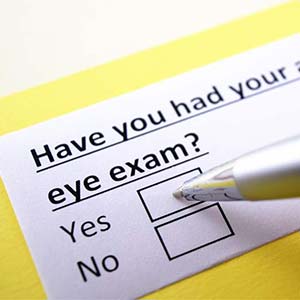 Diabetic Eye Exams
Are you Diabetic?  It is recommended that every patient with diabetes receives a yearly dilated eye examination to make sure that there is no diabetic retinopathy.  At Lakes Family Eye Care, we will thoroughly dilate your eyes and make sure that there are no leaky blood vessels in the retina. We will manage and treat accordingly and send a report to your primary care physician.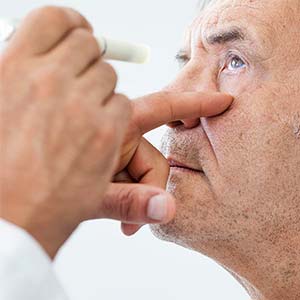 Glaucoma Evaluations
Concerned that you may have glaucoma? At Lakes Family Eye Care, every patient will be screened and evaluated for glaucoma. We will check eye pressure, and treat and manage it with the latest diagnostic equipment such as retinal fundus photography, OCT, and visual fields. We will follow you closely whether you are just a glaucoma suspect or need treatment.