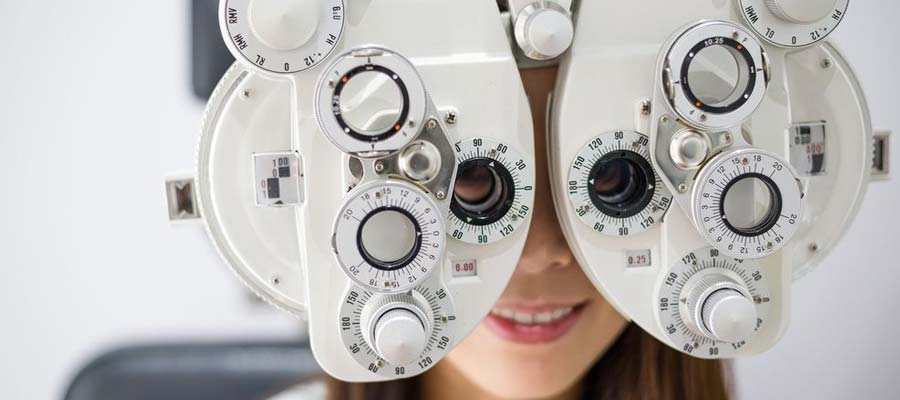 Comprehensive Eye Examination in the Hialeah – Miami Lakes area.
At Lakes Family Eye Care, Dr. Maria Briceno Martin offers Comprehensive Eye Examinations for the entire family. Our mission is to promote good eye health that will enable you to have the clearest vision possible.  Our goal is to provide great service and options to all our patients. We will begin by assessing your visual needs such as computer use, driving, sports, and safety requirements. Dr. Briceno Martin will examine and evaluate each patient for any refractive conditions that may be causing blurry vision.  She will make the appropriate recommendation for glasses and/or contact lenses and will offer a wide variety of lenses and contacts to suit each patient's needs.
She will proceed by assessing the health of the eye and screening for medical conditions that can affect the eye such as Dry Eye, Diabetes, Hypertension, Glaucoma, Macular Degeneration, Cataracts, Retinal Disease, Migraine Headaches and any Autoimmune Conditions such as Lupus, Multiple Sclerosis, Rheumatoid Arthritis and Sjogren's syndrome.  Based on the results of the exam Dr. Briceno Martin will recommend additional testing that will be performed in-house to further assess the patients' findings.  With the assistance of our new and latest diagnostic equipment such as Cirrus Photo/OCT, Corneal Topography, and Humphrey Visual Field we will diagnose and determine the best treatment and management for the patient, and ensure that they are receiving the highest quality of care for their eyes.
If you are tired of wearing glasses and/or contact lenses Dr. Maria Briceno Martin offers complimentary evaluations for LASIK/LASEK refractive surgery and Cataract surgery.  At Lakes Family Eye Care we will make sure that you are a good candidate and guide you every step of the way before and after surgery.
Dr. Maria Briceno Martin stresses the importance of eye exams as part of your yearly routine check-ups.  We encourage you to call us today and schedule your appointment at Lakes Family Eye Care.